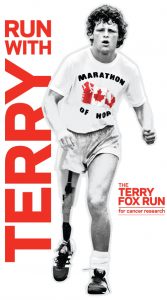 This year we will not be conducting our Terry Fox Run the same as in the past; however, each of our class groups will be in motion to support this worthwhile cause this Friday, September 25th.  Unfortunately, we will not be able to involve parents in our activities.
More information will be coming home from your child's teacher as to what they will be doing to keep Terry's legacy alive.  This year all donations can be made on line as we will not be collecting cash donations at the school. 
Go to terryfox.org, at the top left click on the Donate Today tab.  From the drop down menu choose: To a student or school.  You will have the option to donate to the school as well as a student.  Any contribution is great, thanks everyone!